Belgium • 2023-10-11
BYD Introduces a Double Entry of New eBus Innovation at Busworld 2023
BYD premieres two new pure-electric buses and groundbreaking technologies at Busworld 2023, alongside two existing models in Europe: the BYD eBus B19 (18.75m) and the BYD eBus B15 (15m)
The 12-metre BYD eBus B12 and the BYD-UNVI DD13 Double-Decker coach both make their European debut at the Expo
The all-new 12-metre BYD eBus is the first bus to utilise BYD's revolutionary Blade Battery Chassis bringing a new level of safety and energy efficiency, and exceptional range
Making its world premiere, the BYD-UNVI DD13 Intercity double-decker coach combines BYD's expertise in battery and chassis technology with UNVI's renowned skills in coach bodybuild and design
Brussels, Belgium - BYD, the world's leading manufacturer of new energy vehicles (NEV) introduces two new eBus innovations at Busworld 2023 (7th to 12th October) being held at Brussels Expo, Belgium. From Hall 7, Stand 705, the BYD 12-metre B12 eBus brings a new generation of integrated chassis technology to public transport operators in Europe. In addition, and making its world premiere at the BYD stand, is the 13-metre customisable pure-electric intercity double-decker coach; the BYD-UNVI DD13, an exciting collaboration between the pioneering BYD brand and renowned European coach bodybuild specialist, UNVI. These new buses join two established BYD models on show at Busworld 2023: the BYD eBus B19 (18.75 metres) and the 15-metre BYD eBus B15.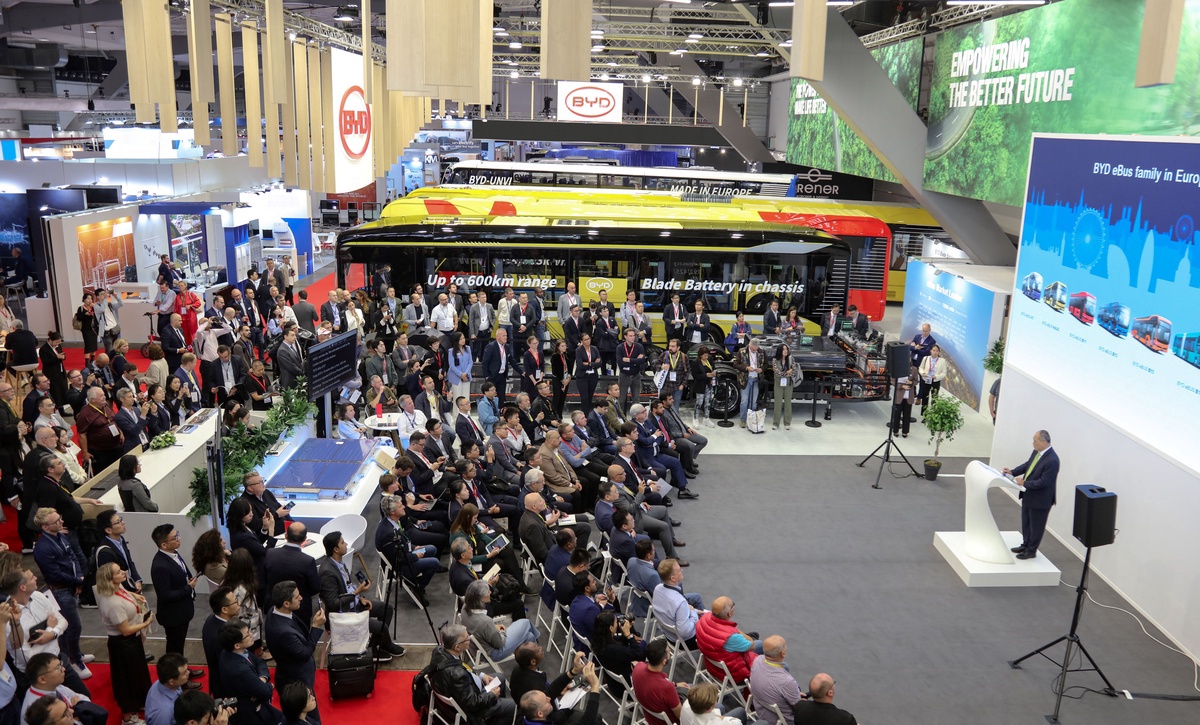 BYD Press Conference at Busworld 2023
With BYD's latest generation of 12-metre electric buses, BYD presents its revolutionary all-new pure-electric bus chassis which integrates the ultra-safe Lithium Iron Phosphate Blade Battery within the chassis structure. This groundbreaking Blade Battery Chassis technology also utilises a new 6-in-1 controller with Silicon Carbide technology, together with two innovative wheel hub hairpin motors. Combined, these bring a multitude of benefits to BYD's 12-metre eBus including enhanced energy efficiency, performance and durability. The Blade Battery, with a maximum capacity of 500kWh, delivers an exceptional range of 600 km in one charge reducing the need for regular charging, making the BYD eBus B12 an excellent choice for busy bus routes.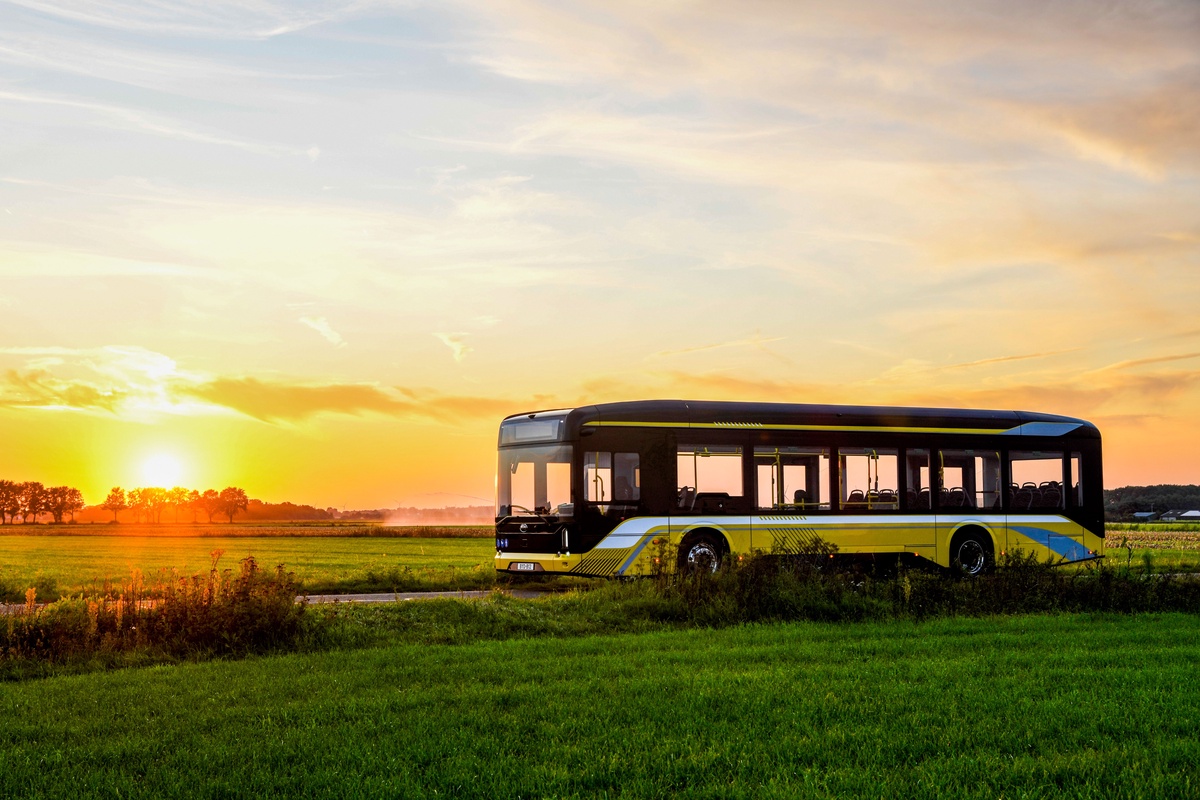 The all-new BYD's 12-metre eBus with Blade Battery Chassis
Always committed to developing strong partnerships, BYD has collaborated with UNVI to produce a new 13-metre double-decker coach for European public transport operators. The alliance brings together BYD's expertise in world-leading battery and chassis technology and UNVI's exceptional experience in body design and build technology. The pure-electric BYD-UNVI DD13 intercity double-decker, equipped with ADAS for added safety, makes its world premiere at Busworld 2023.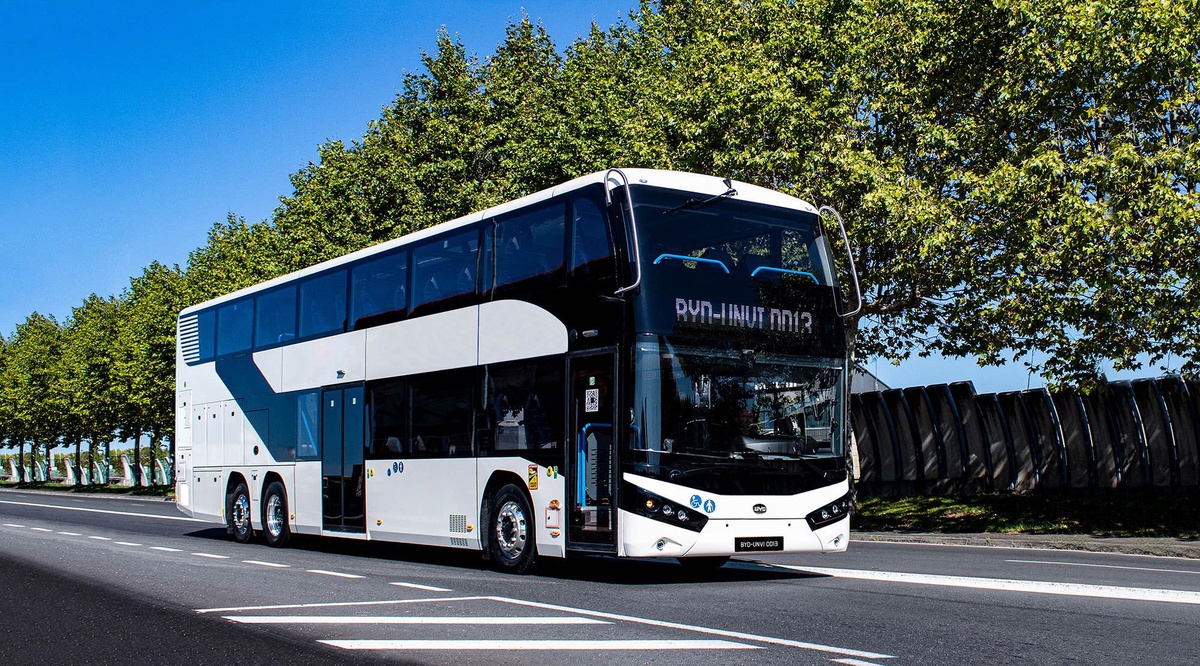 The pure-electric BYD-UNVI DD13 intercity double-decker
Javier Contijoch, eBus Sales VP of BYD Europe, says: "We are delighted to present two of our latest eBus innovations at such a prestigious event for bus and coach operators in Europe. It provides the perfect platform for us to showcase BYD's groundbreaking technologies in electric bus development. We are especially proud to launch the BYD B12 and the truly revolutionary Blade Battery Chassis, making eMobility safer and more energy efficient than ever before. Similarly, we are excited about our collaboration with UNVI as the BYD-UNVI DD13 double-decker makes a world-first appearance, bringing new opportunities for customised eBus solutions. BYD has, for over a decade, been at the pinnacle of electric bus innovation and we are committed to inspiring zero-emission eMobility on a global scale. These new pure-electric buses show our relentless dedication to technological advancements in this field."
BYD, the world's leading NEVs manufacturer, is the first provider of 100% emissions-free transport solutions in Europe, and is also the only NEV producer to master the core technologies of the entire industrial chain, developing its own powertrain systems, power batteries, drive-motors, and motor controller system.
Notably, BYD was the first company in the world to introduce a fleet of commercial electric buses as early as in 2011 and has since evolved to become a global leader in this field. With more than 28 years of experience in battery research and development, BYD remains dedicated to technological innovation to support the mass roll-out of eco-friendly public transport around the world, facilitating electric buses fast becoming mainstream in many European countries and cities. There are more than 4,200 BYD eBuses either in operation or on order in Europe, covering over 250 million kilometres, which is equivalent to reducing 265,000 tonnes of CO2 emissions.
BYD sold more than 1.86 million NEVs around the world in 2022, becoming the best-selling NEV brand globally. BYD has built up an extensive global footprint in the new energy sector that covers more than 70 countries and regions and over 400 cities, delivering more than 5.4 million new energy vehicles globally as of September 2023.